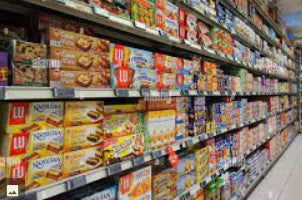 Why Retailers Should be Stocking Allergy-Friendly Foods
Food allergies are a fairly universal problem, with The World Allergy Organisation (WAO) estimating that the allergy prevalence of a whole population by country ranges between 10 – 40%, affecting upwards of 20% of folks in the most developed countries. 
As a result, millions of people worldwide must carefully manage their diets to avoid potentially life-threatening reactions. With a growing international awareness of food allergies, it's only natural that the demand for allergy-friendly foods has also increased. 
Join us as we explore this growing demand, and why stocking allergy-friendly foods is becoming increasingly important for retailers, both for customer well-being, loyalty, and maximising sales potential.
Catering to a Growing Market
The prevalence of food allergies has been on the rise in recent years, affecting individuals of all ages. From common allergens like nuts, dairy, gluten, and soy, to specific allergies like shellfish and sesame, there is a wide range of dietary restrictions that need to be accommodated. 
As retailers, these trends — whether by preference or medical necessity — are worth paying attention to. Where can you fill in the gaps? What opportunities have arisen for you to provide options for customers with food allergies to shop with confidence, while being an early adopter in a growing market?
Promoting Inclusivity and Accessibility
Retailers have a responsibility to create an inclusive and accessible shopping experience for all customers. You can demonstrate this commitment by stocking allergy-friendly foods, and providing options that cater to individuals with specific dietary requirements. 
This promotes inclusivity and ensures that everyone, regardless of their allergies or dietary restrictions, can find suitable products conveniently.
Differentiating From Competitors
In a competitive retail landscape, it is crucial for businesses to differentiate themselves from their competitors. Stocking allergy-friendly foods provides a unique selling point that sets retailers apart. By offering a broader selection of allergen-free products, retailers can attract a niche market segment and gain a competitive edge. This can result in increased foot traffic, customer loyalty, and positive word-of-mouth recommendations.
Stocking a more comprehensive range of products will not only set your business apart from the rest, but it can help show your customers that allergy-friendly food products don't exclusively have to be 'healthy' or 'boring'. People with dietary restrictions want to indulge and enjoy fun snacks and desserts, too! This is where Baked Cravings can help you diversify your offering, with nut-free and vegan snack and dessert options to suit a range of tastes and preferences.
Our Cake in a Cup range gives serious throwback vibes, for anyone nostalgic for the quintessential slumber party snack or easy teen dessert. These little cups of happiness are available in a range of flavors, from colorful Confetti Cake, to classic Chocolate and Vanilla. 
Meeting Consumer Demand
Consumers everywhere are becoming increasingly health-conscious and concerned about the ingredients in their food. Many people, even those without diagnosed health conditions or allergies, seek out allergy-friendly products due to personal preferences or to accommodate family members or friends with allergies. 
By offering a diverse range of allergy-friendly options, retailers can meet the needs and preferences of their customers, while fostering loyalty and repeat business, and getting existing customers to try new products.
Support your customers & reap the benefits
If you're thinking about expanding your range of products to include more allergy-friendly food options, what are you waiting for? Customers with food allergies often face limited options when shopping, which can lead to frustration and a decreased likelihood of making purchases. By offering a variety of allergy-friendly alternatives, retailers create a one-stop-shop experience that encourages these customers to spend more and return for future purchases. 
Baked Cravings proves that allergy-friendly foods don't have to be boring, and with our range of mouth-watering snacks and bakes, you're sure to tempt customers with and without allergies alike to shop your store.
Fancy stocking our delectable desserts wholesale? Shop 
Baked Cravings
 products wholesale on 
CREOATE 
as part of their selection of 
wholesale food products
, and introduce your customers to the sweet side of nut-free food. Find the sweet spot, and become a Baked Cravings stockist today!