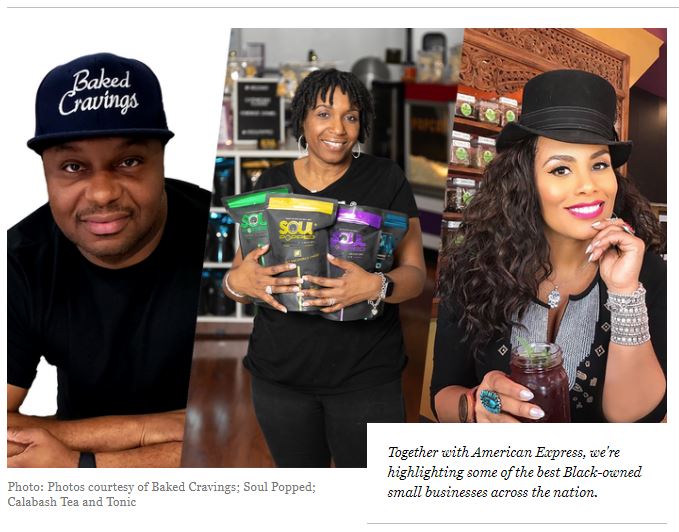 New York Magazine Feature!
Shopping online has definitely increased during the COVID-19 pandemic, including for the foods we stock in our pantries. During a time when nothing much about shopping feels "normal," we're advocating for spending money intentionally, and spending where it matters most. A recent study showed that more than 40 percent of minority-owned small businesses "have added new services to support their communities and employees," compared to 27 percent of small businesses in general. So, in partnership with American Express, we're highlighting some of our favorite Black-owned small businesses across the nation — in the spirit of supporting exactly the types of smaller brands that are making their neighborhoods vibrant.
It's especially pivotal right now to "Shop Small®," as American Express calls it, to support the companies that help local communities keep thriving. Below, check out 9 Black-owned food stores that locals love and that you can shop on your next safe, socially-distanced shopping trip (or in most cases, online from the comfort of your home).
Calabash Tea and Tonic,
Washington, D.C.
As the name would imply, Calabash sells a variety of teas and tonics, plus spices, superfoods, coffee, and much more. Whether you have a craving for chai, herbal, green, or black tea, the D.C.-based company has you covered. They also have accessories, like tea strainers and stoneware mugs, to complete your tea or tonic experience.
Baked Cravings,
New York, NY
Here's where you'll want to shop for fresh-baked, tree-nut-free, and specifically peanut-free treats. Whether you're craving cake, popcorn, cookies, or cupcakes, the NYC-based company ships a selection of their products nationally, too. They also have a rotation of special offers and holiday gifting ideas.
Ellis Island Tea,
Detroit, MI
The Motor City-based company keeps it simply, focusing on two flavors of herbal tea: Jamaican Sweet Tea and Jamaican Unsweet Tea. Both caffeine-free, the tea blends are flavored with hibiscus, rosehips, and peppermint, and the "sweet" variety has a bit of honey and sugar.
Phillip Ashley Chocolates,
Memphis, TN
The namesake of this shop, award-winning chocolatier Phillip Ashley Rix, sells luxury chocolates so beautiful you almost won't want to eat them. Come here for everything from bacon-infused chocolate to colorful caramels to "The Perfect Turtle." The Galaxy Collection features hand-painted chocolates designed to mimic the night sky and outer space.
Soul Popped,
Pflugerville, TX
Imagine these flavors hitting your tastebuds: Austin Smoke BBQ, Banana Pudding, Buttered Corn-off-the-Cob, Big Momma Fried Chicken, and Heavenly Macaroni N Cheese. Those are just a few of the popcorn options at Soul Popped. The Texas-based company, which is selling online exclusively right now, proudly serves non-GMO products.
Patria Coffee Roasters,
Compton, CA
Patria offers great coffee online, or you can swing by for a safe, socially distanced pick-up. (The Oat Milk Coffee Slushy could never sound like a bad idea.) The shop sells cakes, breads, and scones, plus coffee subscriptions catering to every preference from light to dark roasts. There's even a "surprise me" option if you're feeling adventurous.
Emily's Heirloom Pound Cakes,
Homeland, AL
This Alabama-based brand specializes in pound cakes, but sells everything from cake pops to loaves. Lemon Blueberry Buttermilk, Chocolate Caramel, Key Lime, and Butter Pecan are just a few of the flavors you'll find here. If you can't make it to the store, you can satisfy that sweet tooth with an online order.
Sip & Sonder,
Inglewood, CA
Sip & Sonder, notably, opened the first specialty coffee house in Inglewood. The cafe not only serves coffee, but also (in more normal times) serves as a multi-purpose event space and creative studio. It's a spot for "creatives, entrepreneurs, freelancers, curators, and everyone in between." For those who'd rather sip at home, their coffee and tea is sold online.
Kupcakerie,
East Point, GA
At Kupcakerie, gourmet cupcakes are baked fresh every day. Don't miss their 24 Carrot Gold or Malibu's Most Wanted flavors, and check out their gluten-free and vegan options if you're shopping with dietary restrictions in mind.