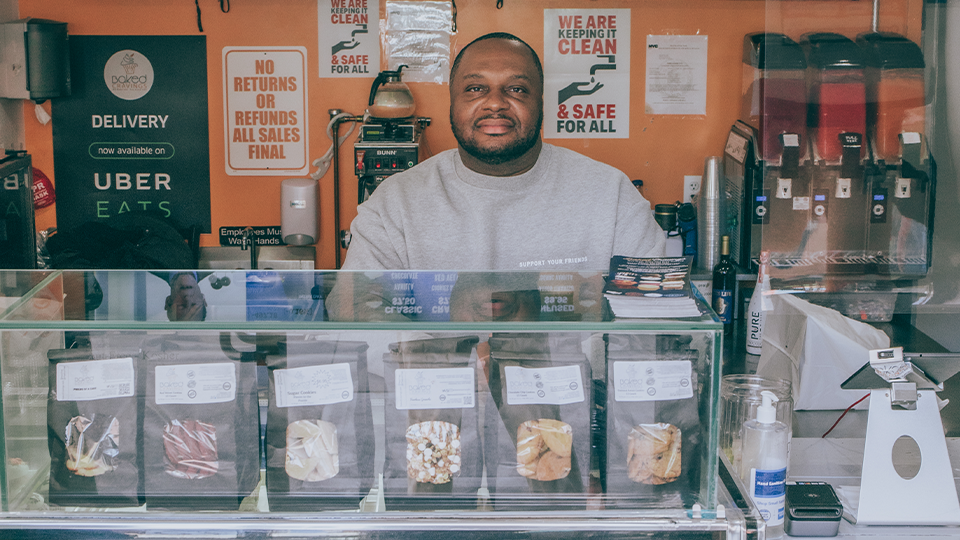 Black History Month Article
Founded by Craig Watson in 2017, Baked Cravings is an award-winning bakery with locations in East Harlem and the East Village. The bakery is unique for its completely nut-free approach: Baked Cravings maintains a nut-free facility and sources all of their ingredients from nut-free vendors, creating desserts that can be safely enjoyed by children in school. That attention to detail is a tenet of Watson's business model. After spending years in the financial sector advising successful businesses, Watson decided to follow his passion for baking and start his own business. When asked what sets Baked Cravings apart from other bakeries, Watson puts it simply: "Our products — they look great, and they taste great." But Watson's business savvy is another of the bakery's advantages, a skill that has kept them thriving in the midst of a pandemic:
"We've been growing every year, and we're still seeing growth. We've adjusted our business model. We don't rely on foot traffic because there's not that much, but we do more shipping and more online sales. With a lot of people working from home, we get a lot of corporate orders — corporations sending gift packages to their employees, cheering them up and building synergy."
Watson says community has played a significant role in Baked Cravings' success, and he credits "listening to our customers" as the inspiration behind many of the bakery's most popular products. Among Baked Craving's largest group of patrons are members of the 13 schools in the bakery's proximity, including one just across the street. Though the bakery is now a nationally recognized brand, it is still local community members that make up the backbone of Watson's business. Watson is immensely grateful for the community's continued support, and has returned the favor by donating his baked goods to local teachers and frontline workers at the nearby Mount Sinai Hospital.
On the topic of Black History Month, Watson described the satisfaction of owning his own business, and hopes other Black Americans can achieve a similar level of success:
"I just want us to continue to grow and continue to have our own businesses, because it's a great thing. This is the best job I've ever had."
Many businesses are giving their all to stay afloat during these trying times; including those in our very own community. With the upcoming campaign, it's our mission to shine a light on the individuals that work day in and day out to continue to enjoy doing what they love. 
Read whole article at link below
https://krostcommunity.com/celebrating-black-history-month/