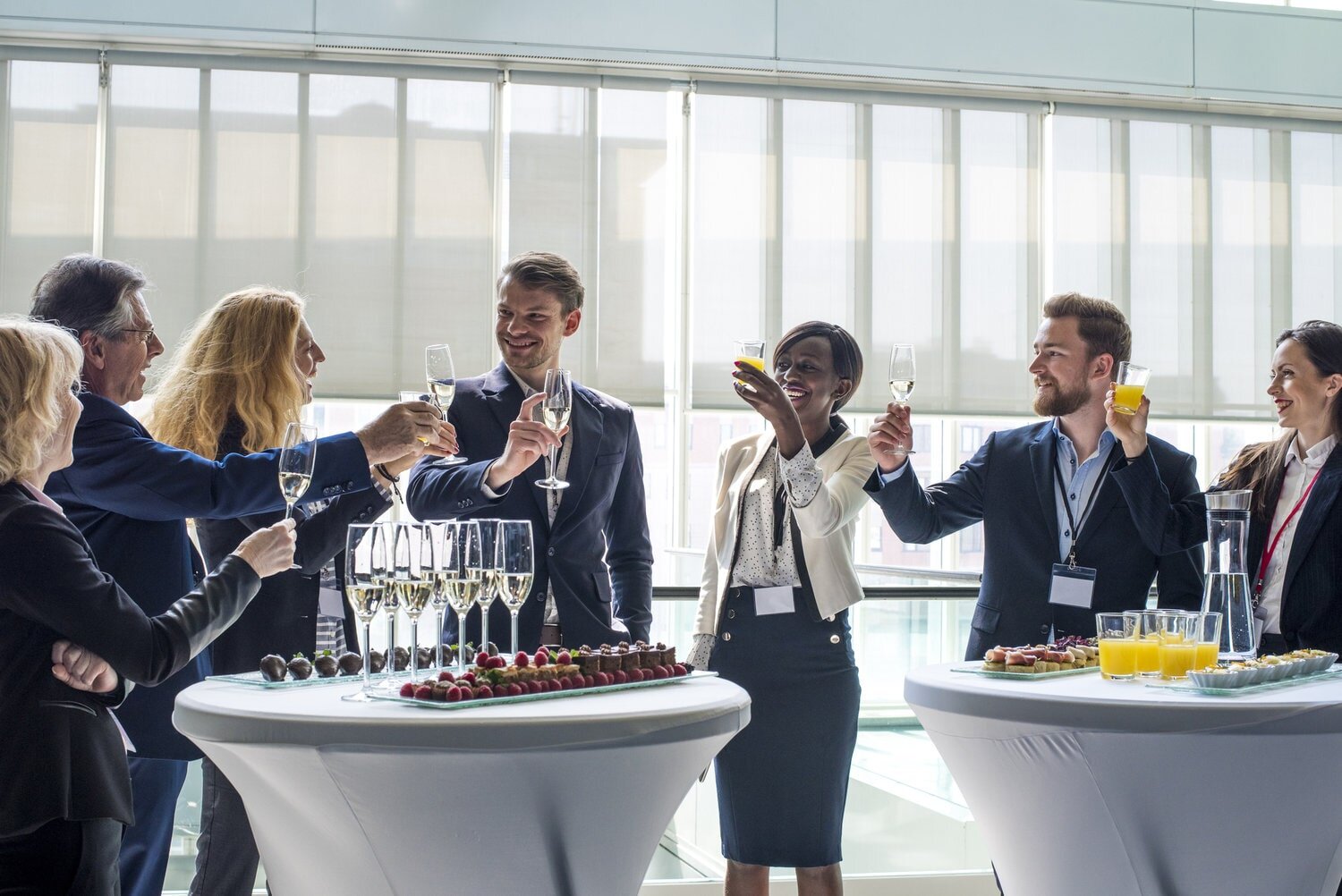 Your Guide on How to Plan a Corporate Event by Paula Fernandes
Any business that wants to build lasting relationships needs to know how to produce professional events. Whether you're hosting a product launch for 300 people or an employee training for 15, it's key to approach each gathering with an understanding of the five elements of event management – research, design, planning, coordination and evaluation. Once an event is broken up into these manageable stages, it is much easier to conceptualize it and pull together the many moving pieces needed to bring it to life. 
In an increasingly digital world, corporate events allow people to relate in a personal way and develop genuine connections. As a result, hosting corporate events has become more important than ever. In fact, according to marketers surveyed as part of a recent event marketing benchmark and trends report, live events are the most effective channel for achieving business goals. 
"Events provide businesses a personal way to build relationships with their target audiences [as well as] build brand recognition and loyalty," said Myke Nahorniak, co-founder and CEO of Localist. "LinkedIn messages, Facebook status updates and tweets cannot replace the meaningful connections made through in-person communication." 
Hosting a corporate affair allows you to strengthen bonds with current clients and partners, and attract future ones. Here are 10 tips on how to plan an event that your attendees won't soon forget. 
1. Understand the purpose of your event.
Once you decide you want to host an event, your first step is to define what you hope to accomplish. 
"It is important to know the goals and objectives of the event you are trying to produce before you can do anything else," said Brian Worley, creative director and owner of B. Worley Productions. 
Start by asking yourself why you are hosting the event and what you expect from it. Once you've identified your goals and expectations, you can then determine what kind of event will resonate with your intended audience. 
"Rather than thinking of it as just a corporate event, think about it like you're delivering an interactive brand experience," said Serena Holmes, CEO of Tigris Events. "You want it to be meaningful and engaging."
2. Set a realistic budget.
You need to know how much money you have to work with to determine what sort of event you can produce. According to Worley, you should know early on how much you want to spend, and then plan on spending at least 10% more. 
"Things are always changing, and you should have a cushion for added and unexpected expenses that pop up," he said. 
Once you have a budget, knowing where to allocate most of your resources is essential. For example, if you spend more money on fancy decorations than you do on a skilled tech crew or personable speakers, your event might be lacking in substance. 
"Choosing an A/V and technology team can make or break an event, so we always put a focus on hiring an experienced firm to manage live presentations … breakout session technology and photography, pre- and post-event," said J.J. Barnes, vice president of marketing and business development at enVista. 
Additionally, don't skimp on food or beverages, and take into account special dietary restrictions. Though this may not seem as important as other aspects of your event planning, audiences are more forgiving of missteps when they aren't hungry or thirsty. 
3. Establish a project timeline.
Designing the event requires you to keep track of a broad range of tasks. This can be facilitated by creating a master detailed checklist. There are new, tech-savvy tools that streamline and simplify the managing of dozens, if not hundreds, of tiny details. 
"The overall planning checklist serves as a tool for the duration of the planning process," said Valerie Gernhauser, owner and principal planner of Sapphire Events. 
Gernhauser said her team starts with a list for 12 months out and works in checklist increments at nine months, six months, four months, two months, the month of, two weeks out, the week of and the day of the event. 
"Breaking down the task list like this helps our team foresee the schedule of milestones we need to target," she said. 
To keep your checklist on track, Karthik Subramanian, a content marketer with Paperflite, recommends creating a spreadsheet and using individual tabs for each event category, such as venue, speakers, schedule, agenda and travel. This way, you can list each activity or task, the people responsible for each part of the process, and all the relevant deadlines.
4. Decide on your audience.
An important part of the planning process is defining your target audience. Is it your company's executives, managers, longtime clients, business partners, community members, or a combination of a few of these or other groups? Once you can name your audience, you can cater the program to their needs and interests. 
It's always stressful to determine how many guests to invite to these events. However, according to Julian Jost, CEO and co-founder of Spacebase, it's better to invite too many people than too few. 
"For small businesses, empty seats and uneaten snacks look bad and are a waste of money," said Jost. "In most situations, having too many people show up isn't really going to spoil an event (with some exceptions, like venues with very limited space or where a three-course meal is planned). If too many people turn up, it's also great marketing. You're sure to create a buzz the next day, and it will add to anticipation about your next event." 
Regardless of how small or large the guest list is, what people will remember is how they were treated. 
"Every person attending the event is a potential brand ambassador or word-of-mouth spokesperson for … your business," said Gernhauser. "It is important to make a significant impact on the guest experience by not overlooking the finer details that each attendee will appreciate firsthand." 
5. Choose a theme and format.
Once you have set your objectives and defined the audience, it's time to choose a theme or topic for the event and determine the best format for presenting it to your guests. 
For example, coordinating a client event with an industry expert, such as a guest speaker, can position your company as a trusted advisor instead of just a vendor. Peer-to-peer learning with client panels, keynotes, roundtables and breakout session speakers are other popular options. 
"Always offer opportunities for attendees to do something fun, memorable and entertaining that they wouldn't typically do anywhere or anytime else," said Barnes. "This might include hearing from a famous speaker, comedian, or band; playing on an incredible golf course; or trying something new, thrilling, or exclusive for the first time."
A successful corporate event is immersive while educational, according to Worley. 
"The ones that are interactive rather than sitting in a ballroom watching a speaker all day are more successful, informative and fun," he said. "We really try to create experiences these days that go beyond theater-style seating, and put the attendees in situations and in front of the right people for networking and learning.
"Determine what you are going to do to make this an 'out of the box' event," Worley added. "Spend the time now to figure out what will differentiate your event from similar ones in your industry or even ones you've previously produced." 
6. Select an appropriate location.
Once you decide the type of event you'd like to create, it's time to find a venue that allows you to bring your vision to life. It's tempting, at times, to jump ahead and book a venue you've heard good things about or that you know is an up-and-coming hot spot, even if you haven't quite honed in on the mission of your event. This is a mistake, according to Worley. 
"It is always hard to fit a round peg in a square hole, so the same goes for an event," he said. "Build the event architecture first, and then find the venue that fits all the specs you need to have for success."
According to Barnes, "location is key to attendance." She recommends booking a venue in a convenient area with a vibrant atmosphere so attendees feel comfortable and willing to make the commute. 
If you have a tight budget, Jost suggests lowering your costs by holding the event at a less popular time when the venue is more likely to be available, such as hosting a media breakfast on a Monday morning. 
"Be sure to involve the local community as much as possible," said Gina Argento, president and CEO of Broadway Stages. "We always use local vendors for catering needs, various rentals and many other crucial aspects. By doing this, we are supporting the local community and giving them the opportunity to network and expand their businesses." 
7. Plan the logistics of the day.
To have a successful event, you will have to identify, vet and contract all the necessary event specialists. This may include caterers, audiovisual technicians, printers, decorators, photographers, florists and security personnel, to name just a few. Of course, you must also book speakers and presenters, including prominent figures, experts or influencers, who can best communicate the ideas you'd like to circulate throughout the gathering. 
To assure everything goes according to your plan, determine a timeline for the event, and make sure everyone on your team knows what aspects of the day they are responsible for managing.
You have to work very intentionally to create a balance between keeping attendees engaged and giving them some freedom in their schedule. 
"People get bored easily," said Jonathan Chan, head of marketing at Insane Growth. "If there isn't enough variety to keep them interested, then you've basically spent a lot of money on a vanity event."
However, you don't want to jampack the schedule. There needs to be leeway in the itinerary to deal with unexpected occurrences that may arise. Additionally, your attendees need time to themselves to process what they are learning, recharge, and connect with other attendees. 
"Leave some breathing space for participants to network," said Subramanian. 
When deciding how to wrap up your day, skip the typical promotional giveaways with the company logo, and think of gifts that have a big impact with a small footprint. A much better idea is a digital take-home, according to Jost. 
"That could be a promotional code, which gives guests a discount, or it could give access to online content from the event, like photos and videos," he said. "It could also include the chance to register in advance for the next event. Give guests an incentive to stay in contact." 
8. Promote your event.
If people don't know about your event, no one will show up, so it's imperative to find creative ways to get the word out. For a small event with a limited guest list, you can simply send out invitations, but you need to be bolder for larger events. 
"In today's digital age, a variety of promotional methods are required to generate attendance," said Barnes. "We typically start by emailing our database, placing ads in industry newsletters, adding our event to industry listings and directories, and encouraging our sales teams to promote [our conference] when visiting clients or partners onsite." 
From there, you can promote on social media and have your team spread the word. Create an event website or, at a minimum, a new landing page on your current site. Your social media marketing can also include promo videos, guest blog posts, and Facebook, Instagram or Twitter updates. Maintain uniformity by using the same handle and hashtag across platforms and consistent messaging so it's always clear that the buzz is about one particular event. 
You can also explore possible sponsorship opportunities for your event. Sponsors can fund a portion of the event, which helps you defray the costs. More importantly, sponsors have a vested interest in promoting your affair. Brainstorm a list of ideal sponsors whose brand, mission or services complement your event in some way. You can develop a range of sponsorship packages and reach out to them about potential partnership opportunities. This works best if you focus your pitch to highlight the value of attendees to potential sponsors. 
"We partner with media sponsors to speak at our events," said Barnes. "It's a win-win situation, as they receive 'free' publicity and mindshare in return for publicizing our event." 
9. Make use of technology.
Gone are the days of cumbersome mile-long lists to track all the moving parts of an event. Today, there are tons of event management software platforms and apps (some of which offer a free base product) that do everything from providing seamless onsite check-in of attendees to enhancing the appeal of workshops and presentations with simulations and virtual reality games. 
The use of event apps can help you significantly streamline planning and increase engagement among attendees, according to Nick Jackson, CMO at HelloCrowd. 
"Event details can be populated quickly via spreadsheet templates and published instantly into an existing event container app, or event teams can create their own custom-branded event app to use for multiple events and conferences throughout the year," said Jackson. "Most event apps have features that keep attendees up to date with all the info they need leading up to the event and during it, and it allows them to provide feedback to the speakers and organizers."
Interactive features, such as live polling and session Q&A, can be easily displayed on large screens in the venue, and some apps have gamification features, such as scavenger hunts. You can make speaker slides available to attendees, as long as they are in the correct format, by simply uploading them to the event app. 
Event management software keeps your project on track, but it also makes it easier to work collaboratively with vendors and other creative partners. 
"Streamlining communication among all the parties by using a project management system we can all collaborate on has been tremendously helpful in cutting down the frustrations of relying on email communication alone," said Gernhauser, who uses Basecamp, a popular cloud-based project management system, and Social Tables, another web-based event planning platform known for its event-diagramming and seating capabilities. 
10. Celebrate and evaluate your event planning success.
If your event went off without a hitch, congratulations! You aren't done yet. Now is the time to wrap up any loose ends, such as sending final payments to vendors, reconciling your finances and conducting a post-event debrief with your team. 
Most importantly, you want to gather feedback from guests. If you used an event-planning app with a feedback option, you can use it to ask attendees questions. This information will help you determine if the event met your original goals and what impact, if any, it had on the attendees. You can then share this information with all the relevant stakeholders so an appropriate follow-up can be planned. The lessons you learn will help you refine your planning for the next event. 
Additional reporting by Sammi Caramela and Nicole Fallon. Some source interviews were conducted for a previous version of this article.